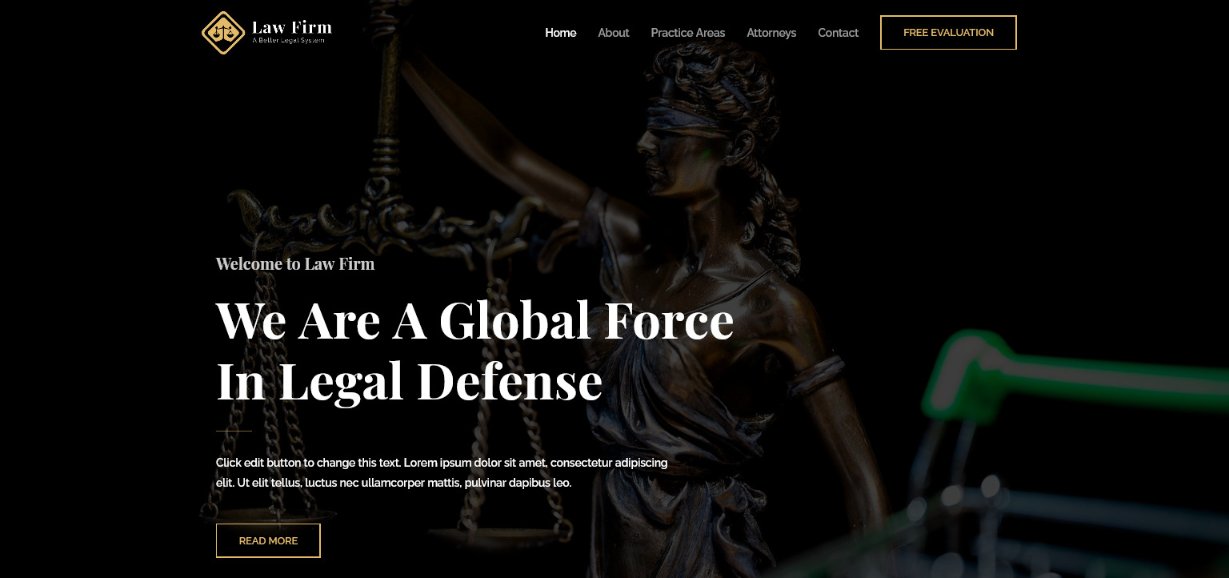 Looking to upgrade your website to keep up with the latest trends? Think your current lawyer WordPress theme is looking a little dated? Concerned your current website isn't conveying the message you want to communicate with your audience?
If you answered yes to any of those questions, this page is for you. We are going to list 28 of the best WordPress law themes available right now. By the end of this page, you will hopefully have found the perfect theme to represent your firm.
A WordPress law theme has to do many things. It has to convey trust, gravitas and authority while also being approachable. It has to communicate that you're expert lawyers and fearless in service of your clients but be accessible enough to not scare people off.
We think all of the following lawyer WordPress themes can easily achieve that.
Things You Need to Build a Website for Lawyers
If you're building your first website, you're going to need more than a legal WordPress theme. Here's a quick overview of what you will require to get your site up and running.
Domain
A domain is the URL, or website name, the www. address you type into a browser. This should reflect your company name or brand. Ideally it would be the same as your company name, or as close as possible. Domain names can be bought at the same time as your web hosting.
Web Hosting
Web hosting is what makes the website accessible to your audience. You're essentially renting space on a server with direct access to the internet. You install WordPress and your legal WordPress theme onto the host, set up the website and people should be able to visit it in the same way they do any other website.
Themes
Themes are a graphical layer you add to WordPress to make it attractive. They install alongside WordPress to give a website a completely new look.
WordPress is a functional system with some basic themes. Professional developers create and sell third party themes that offer a wide array of features and looks. It is these we will look at in this piece.
Plugins
Plugins are optional apps you install into WordPress to add extra features. If the core system doesn't include a particular feature, you can add it with a plugin. Many plugins are free while others cost money. They can add huge scope to the capability of any website.
WordPress plugins can include web forms, video or audio players, security apps, firewalls, user features and a whole lot more.
Best WordPress Themes for Lawyers
So know you have an idea of how everything is put together, let's look at those WordPress law themes.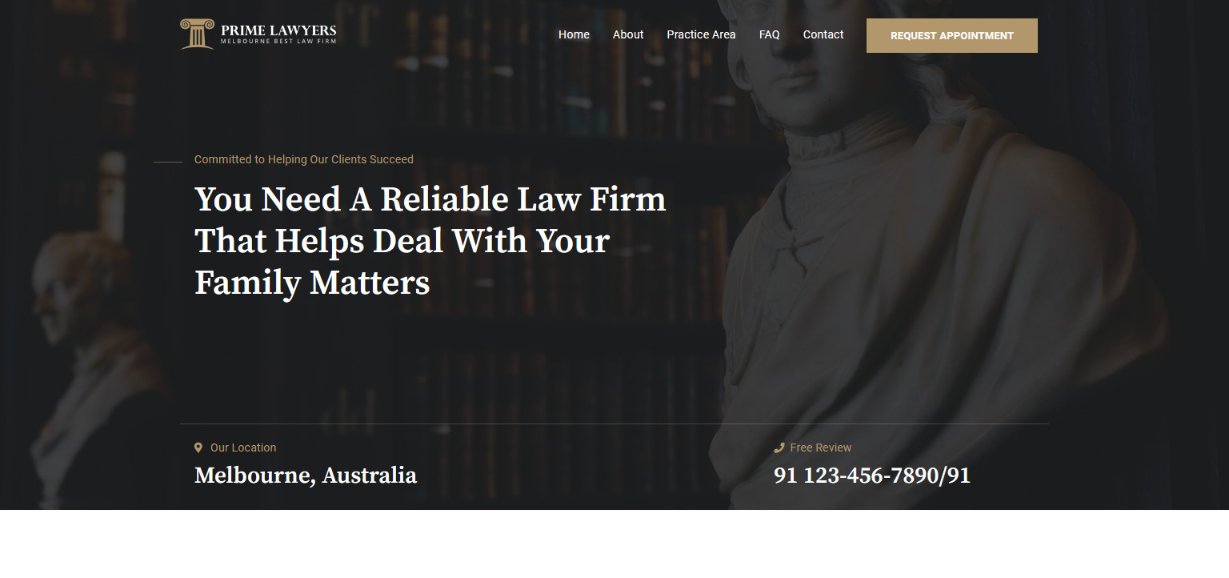 Astra is a WordPress theme with a couple of hundred different templates covering most industries. That includes a couple of excellent lawyer WordPress themes. We created the designs to suit the subject, so they are clear, concise, use sober colours and provide the features a potential client would expect.
Our Prime Lawyers and Law Firm demo websites deliver everything your lawyer WordPress theme needs. Sober design, authoritative imagery, easy to follow page layouts and confidence inspiring elements. You can use it as is or customize to suit your own needs.
Astra is an exceptional WordPress theme that makes building a website easy. Not only does it provide demo templates for you to use as you see fit, we include drag and drop page builders to help you build a unique website using simple tools.
You could easily install Astra, load a demo website and build your own site with your own branding in an afternoon. Because we include page builders, you can do everything without having to know any code or even knowing how WordPress works.
Astra includes a range of templates, works with Elementor, Beaver Builder and Brizy page builders and is compatible with most WordPress plugins. It's the easiest way to build a professional website!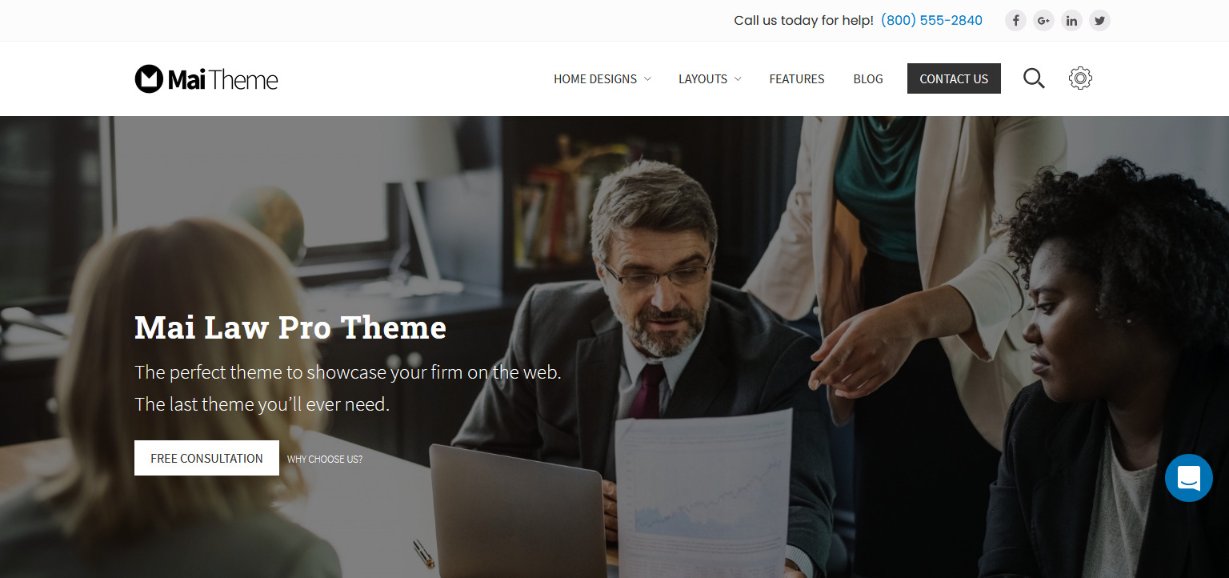 Mai Law Pro is another great legal WordPress theme. This theme uses stark dark and light colours with high contrast fonts to make an impact. Then the imagery and copy conveys the message. It's a great combination.
Mai Law Pro is a third party theme that uses the Genesis Framework. This is a plugin for WordPress that adds extra features and enables themes like this to work. Pages load quickly, most WordPress plugins are supported and it is relatively straightforward to build the website.
There is a slight learning curve to the Genesis Framework though.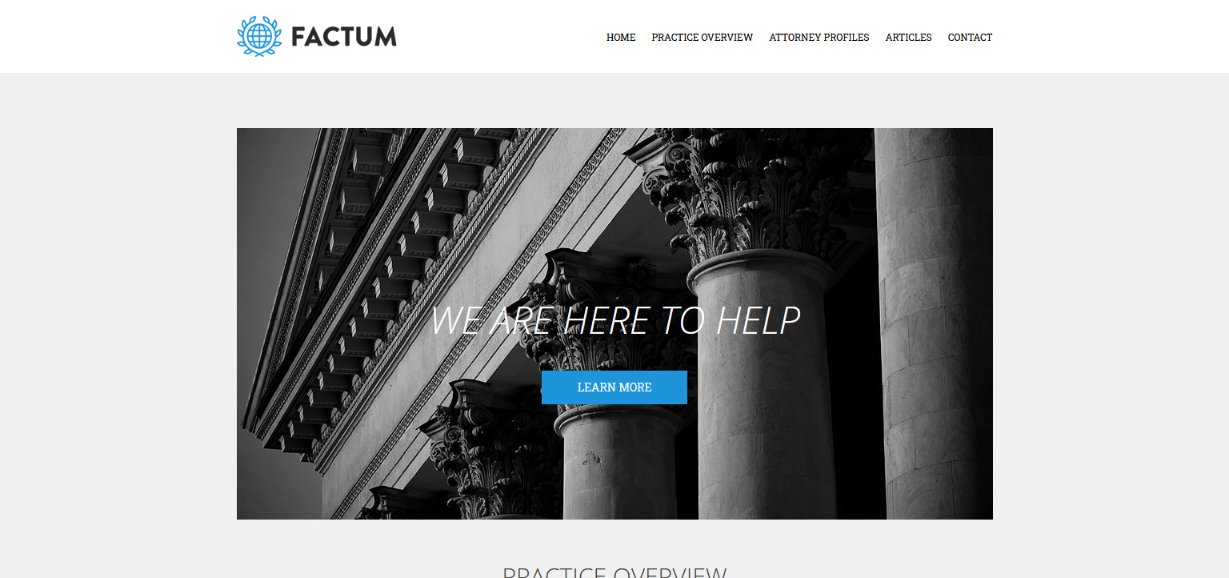 Factum is a WordPress landing page for lawyers. It's a different take on the legal website where everything is contained on a single scrolling page. The design is modest, with monochrome images, a grey background and a mixture of serif and sans serif fonts.
If you're setting up a small law firm or are going it alone, you may not need an entire website. If that's the case, a single landing page could be enough. That's the gap Factum seeks to fill. It's a simple, no-nonsense legal theme with enough space for you to say what you need to say.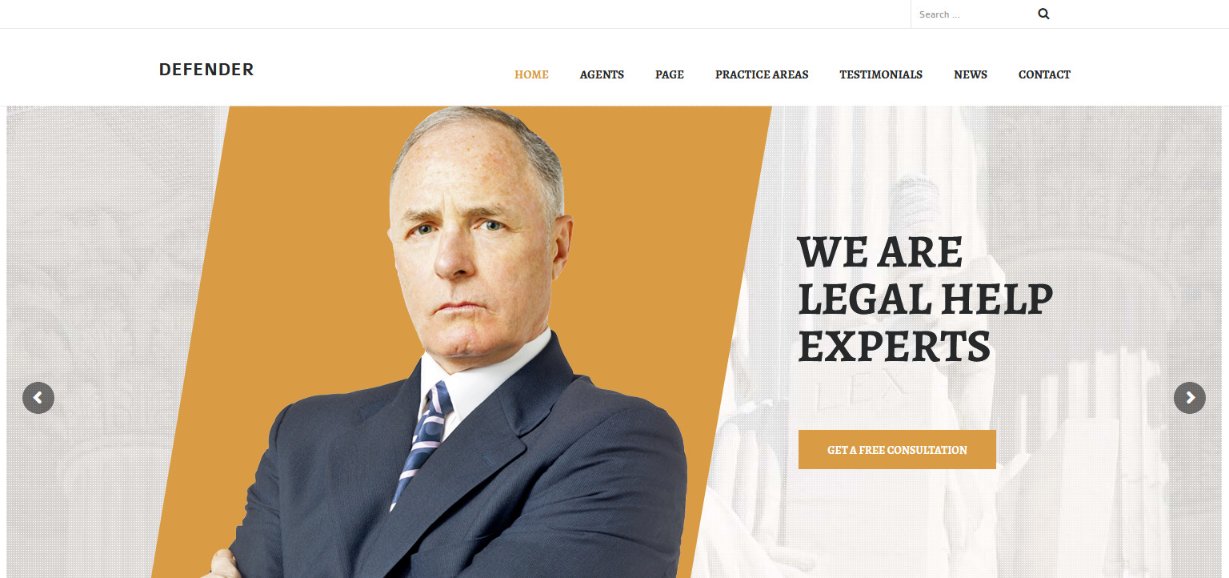 Defender is an impactful lawyer WordPress theme designed for firms or partnerships. It makes an instant impression with that strong header image and headline. A simple white background allows the content to stand out and the mixture of dark blocks with light font and orange contrast colour works very well.
The theme also includes extra options such as the counter under the header image, a timeline, opportunity to add lawyer biographies, FAQs, recommendations and all the elements you would expect to see on a legal website. It's a great option for some legal firms.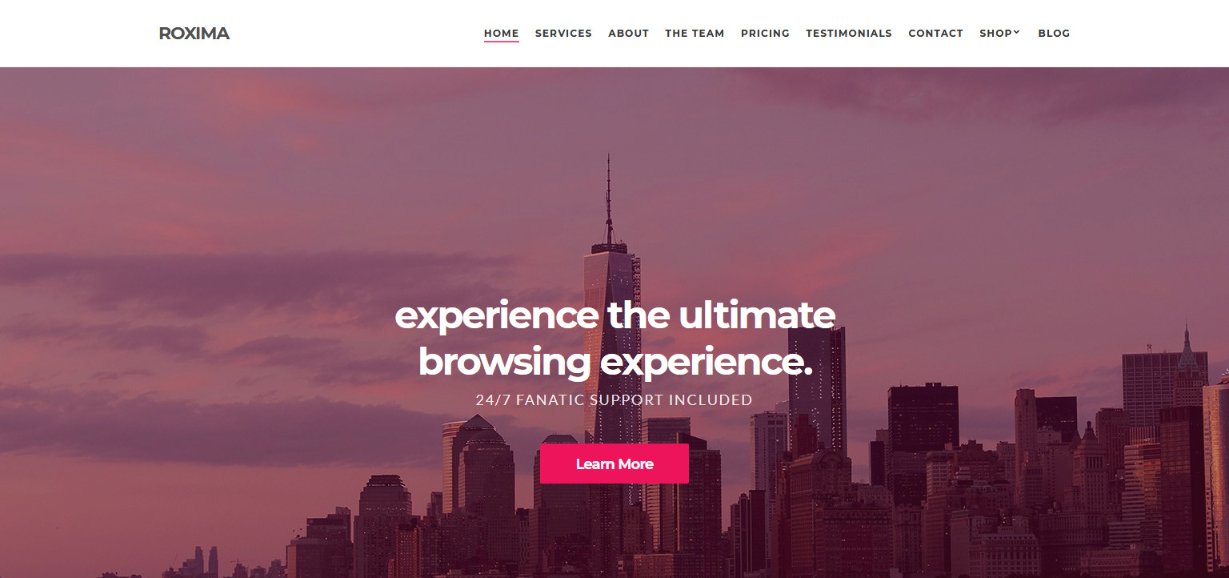 The demo website for Roxima is not set up for a lawyer but you can easily see how it could work. It's a corporate design with strong header image and stark white font with alternating white and grey backgrounds. There are lots of content blocks to add services and all the information you need to convey.
Roxima also has other elements such as pricing tables, biography sections, a form, map, a services section and even a store. You may not need all of the features here but they are always there if you do.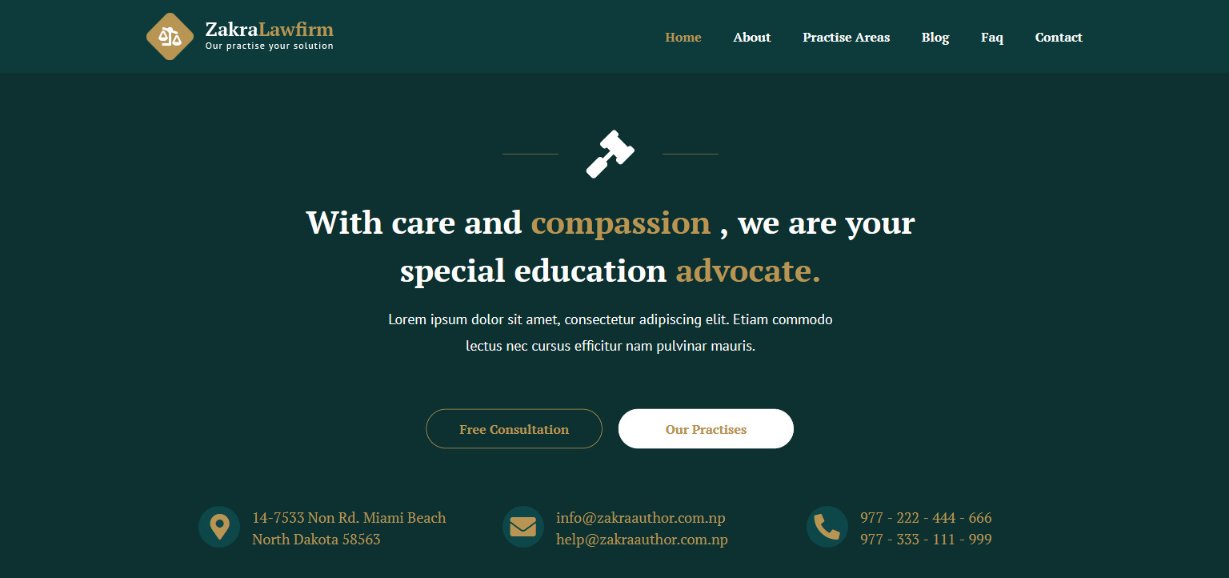 Zakra is a WordPress theme with many demo websites covering different niches. The Law Firm demo is the one we are interested in here. It uses sober colours with contrasting dark background and white font to convey the message. A complementing gold coloured font draws attention in a positive way.
This lawyer WordPress theme is ready to use. It includes a service section, enquiry form, lawyer biography, testimonials, forms, pricing tables and even a case study section. All the elements you could need with the option of adding more.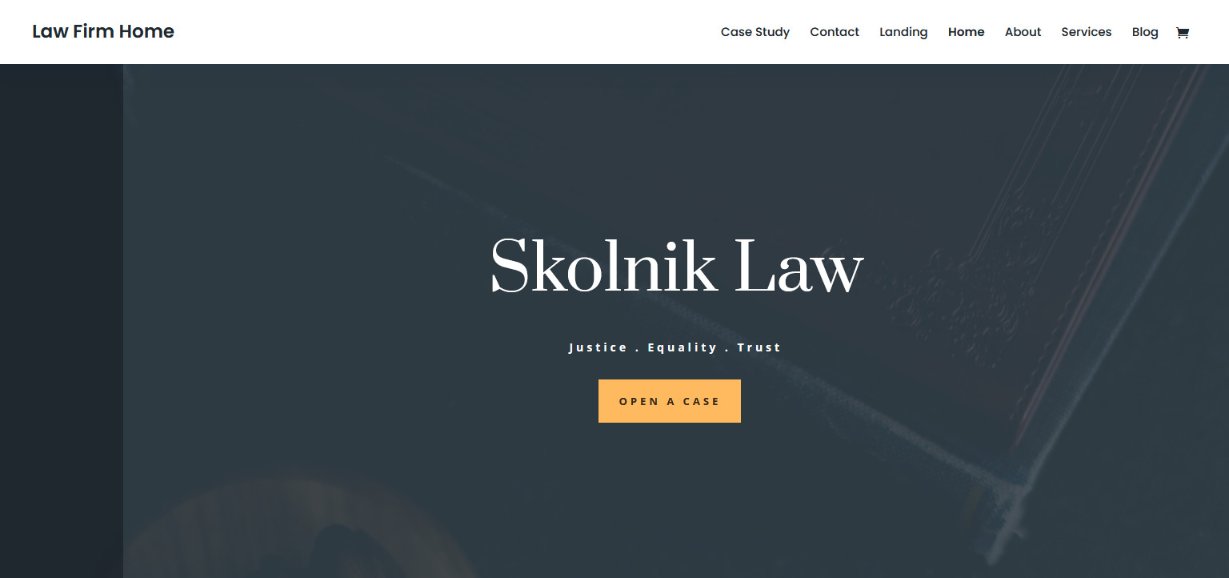 Divi has a range of WordPress themes covering many niches, one of which is law. Their Law Firm demo template is a simple design that could be ideal for those who don't want to make an impact but would rather let actions speak louder than words.
The design still uses the same sober design as these others, but fewer images or embellishments. Pages include the elements you're looking for and make the content stand out with dark and light backgrounds and blocks. The orange contrast colour for buttons works well too.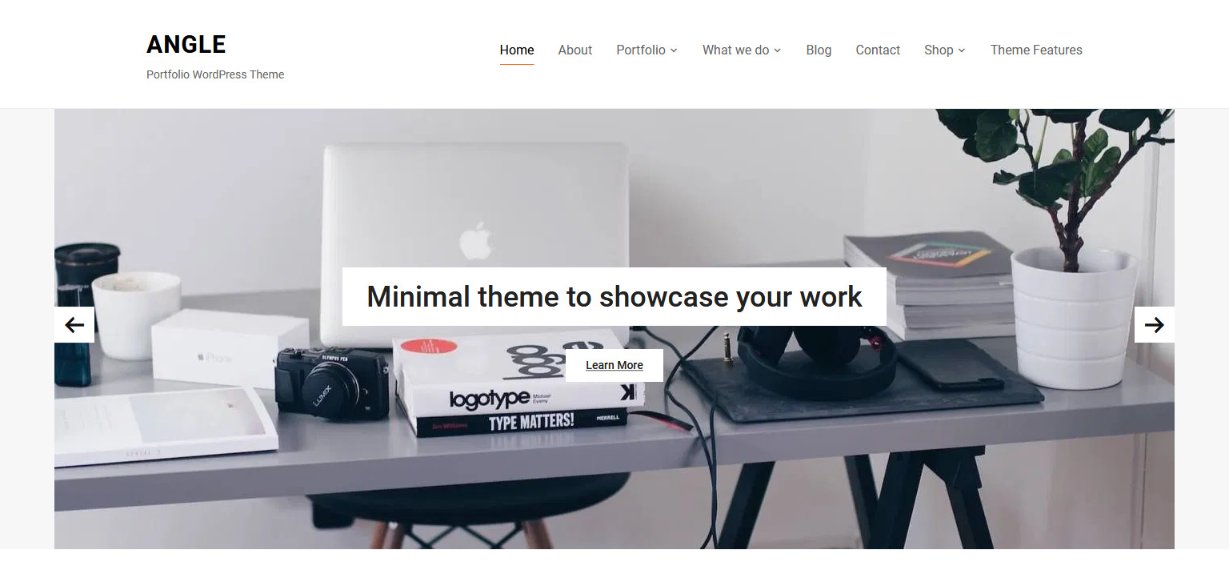 Angle is another WordPress theme that isn't set up for law but could easily be customized to suit. It's a modern monochrome look with lots of white space, an attention-grabbing image in the center with header. Simple logo and navigation elements keep things tight while conveying a professional image.
The page expands to cover services, extra content areas, service pages, a blog, contact form and even a store. You may not want to use all pages and may want to add more but it wouldn't take long to do.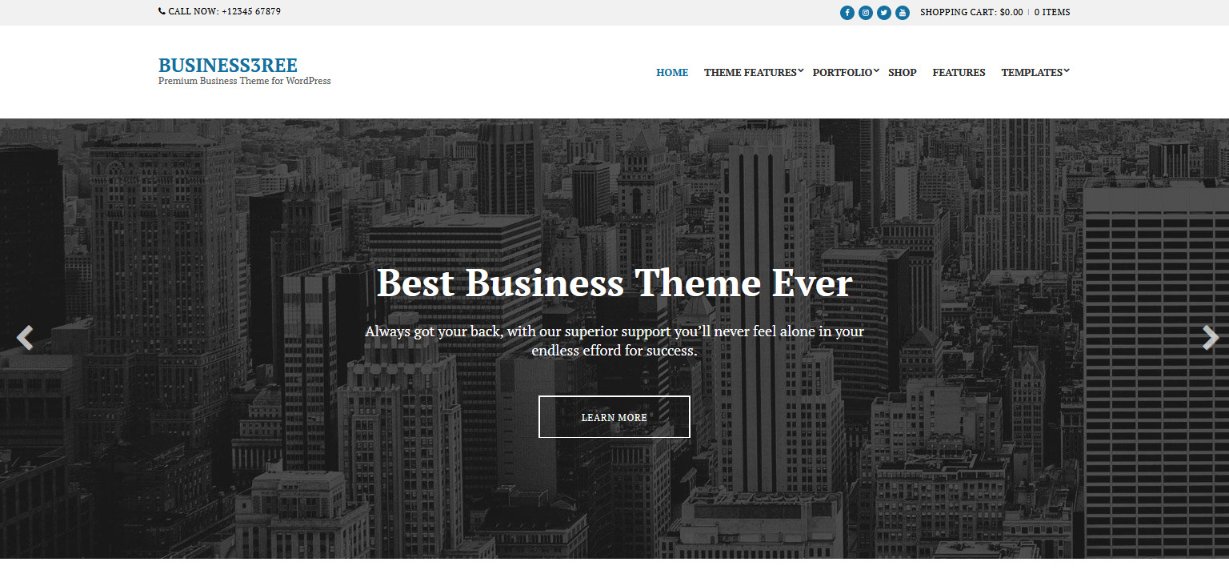 Business3ree is similar to Angle in that the demo isn't set up for law but could easily be used as a lawyer website. It's another corporate theme with sensible design that conveys professionalism and authority.
The design uses a header slider to showcase different elements with a service section underneath. Simple navigation up top keeps you oriented while a selection of content blocks as you go could cover most elements you would want to include.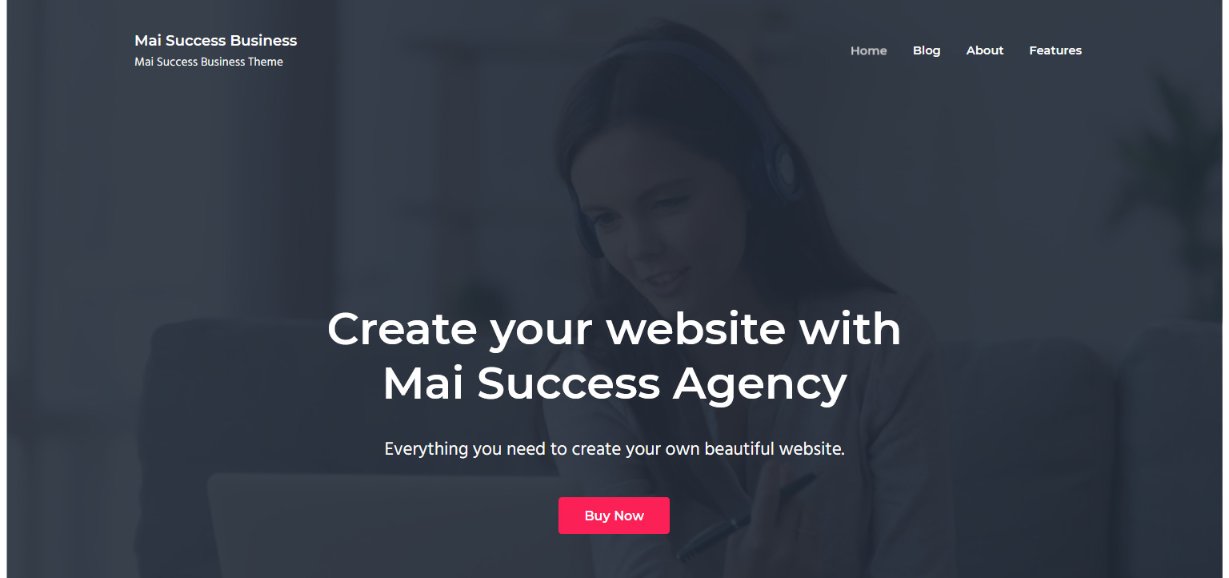 We think Business Pro is a very strong theme. It's an agency design that could be tweaked to suit the law very easily. This is a modern theme with a mixture of white and grey backgrounds, stark white content blocks, strong contrasting sans serif fonts and pops of colour throughout.
This could be an effective lawyer WordPress theme with minimal effort. All the ingredients are there to configure the site and the Genesis Framework is relatively simple to use once you are used to it. We rate this theme very highly indeed.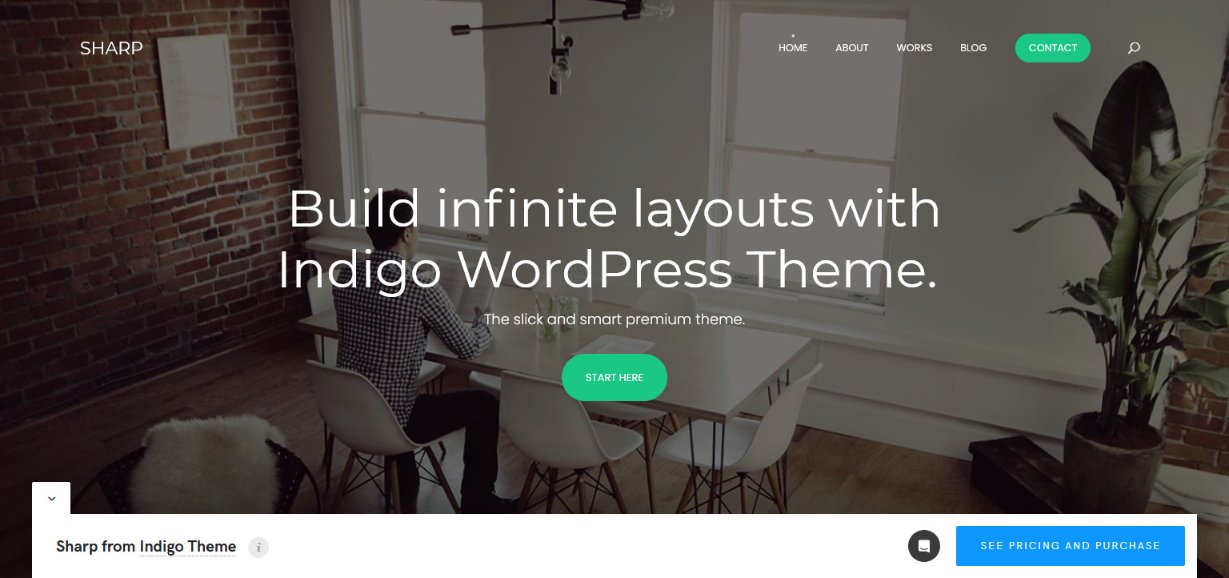 Sharp is a flexible WordPress theme that could easily be tweaked to suit the law. We particularly like the corporate demo as it conveys authority and reliability well. It could be customized to suit the law with minimal effort.
All pages load quickly and contain a selection of content blocks covering most needs including services, biographies, reviews, a blog and contact forms. The theme integrates into WordPress and you can use the live customizer feature to make your changes and see the results in real time. It's a great theme to try.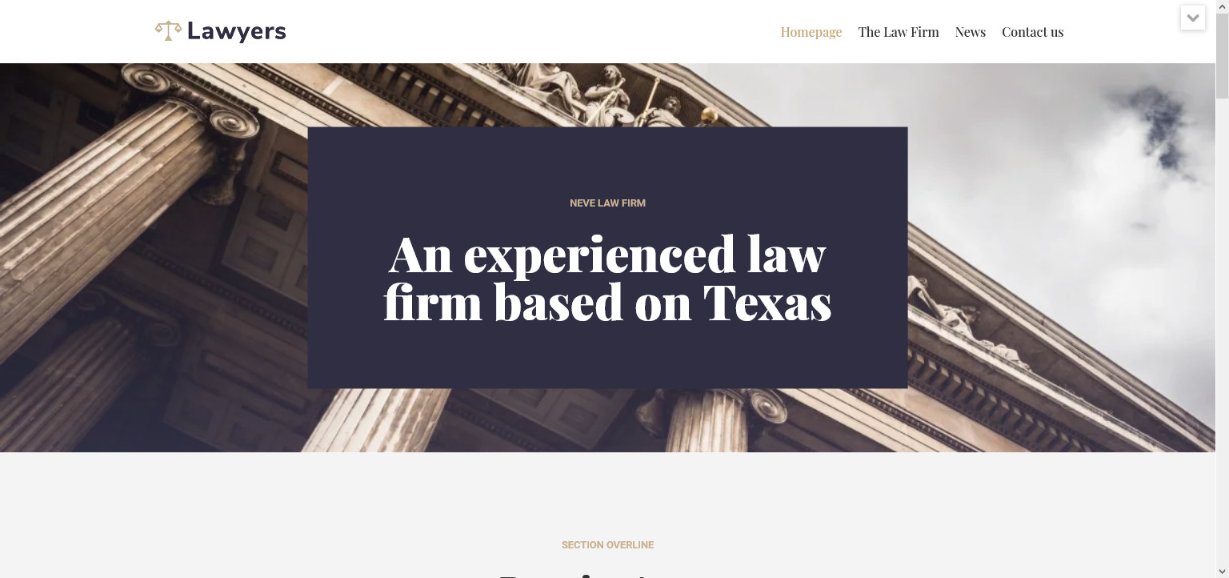 Neve is another WordPress theme with a number of demo websites. We rate Neve Lawyers for this purpose because it manages to appear thoroughly a modern lawyer WordPress theme while conveying authority and confidence.
Some of that comes from the header image but there are also other elements. Elements such as the serif font and use of colour. The page flows nicely, gradually unfolding to show the services, the firm and the contact form. You can add extra elements if you wish but the demo covers most needs nicely.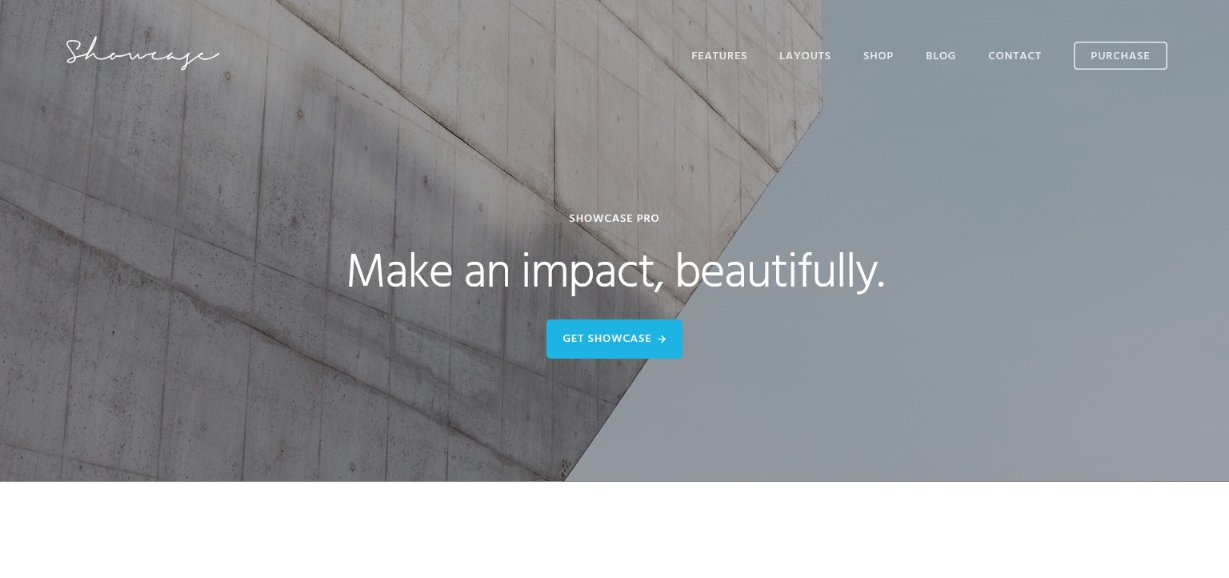 Showcase Pro is a more relaxed theme. The demo is a corporate template but could be turned into a law website with ease. It's a light, serene theme with blue tinted images, modern white fonts and a calm blue contrast colour. All that could be changed of course but we like this as it is.
Simple navigation, nice graphics in the service section and optional extra content sections means you could build this theme to deliver exactly the impression and the content you need with minimal effort.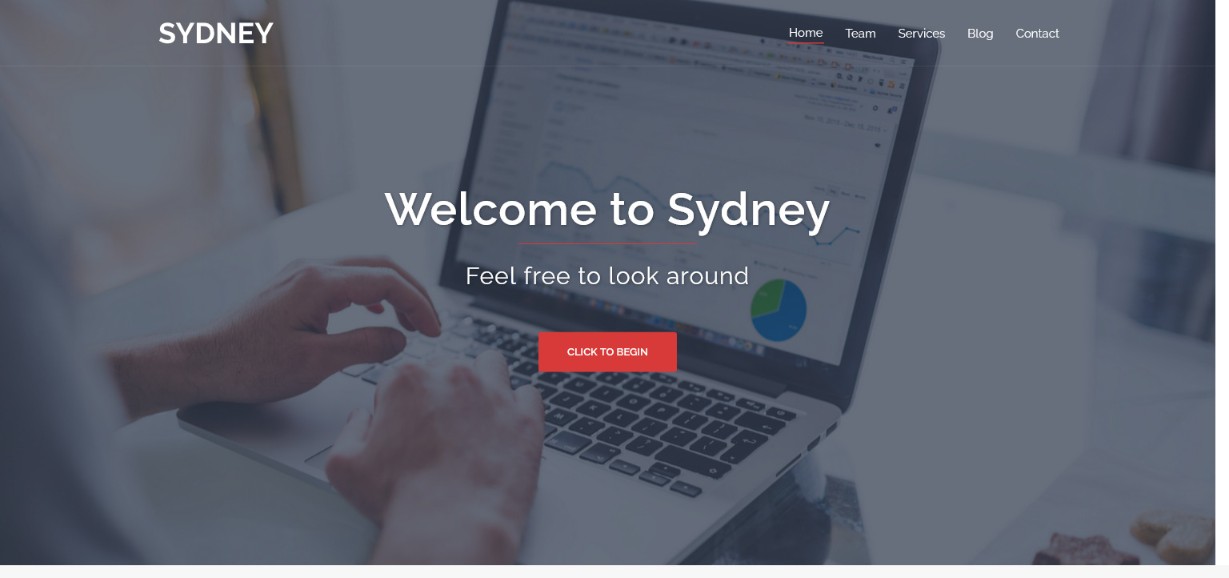 Sydney Pro could actually be a WordPress law theme but it's actually a business theme. We consider this an excellent option for some firms as it uses a lot of modern design cues that resonate well with younger audiences while still working for more mature ones.
The header image is flexible and adds weight to the page without dominating it. The white and blue colour scheme adds gravitas while the strong font builds authority. Additional graphics down the page could add value while the service and content sections cover most of the other elements a typical law firm might need.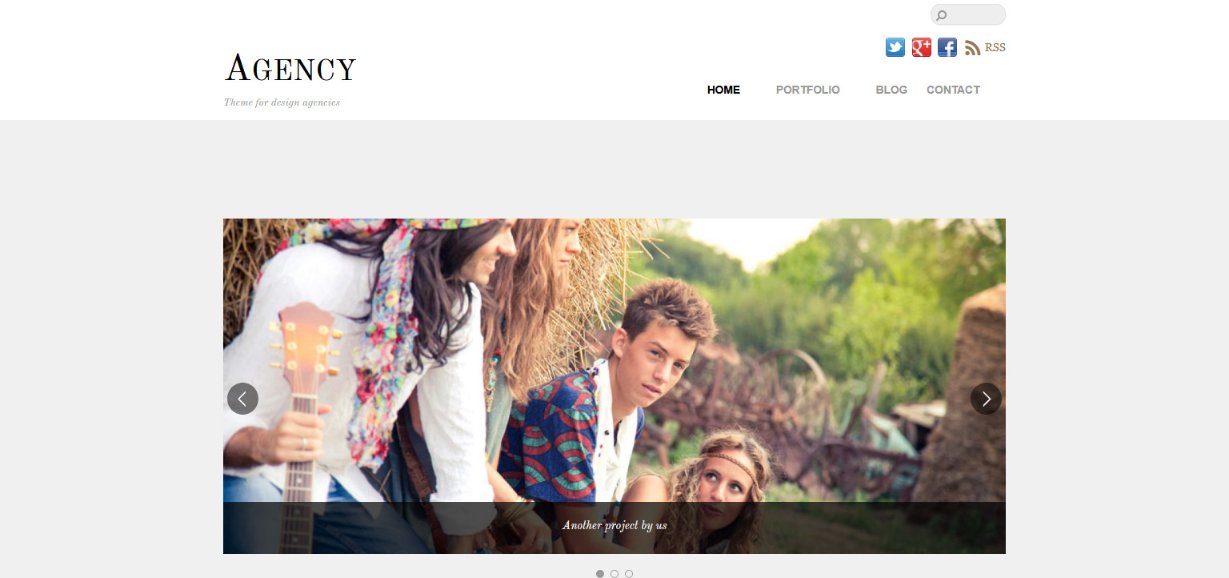 The Agency theme is very different. It's more of a low key design with modest aspirations that could be ideal for smaller or rural law firms. It uses a simple header image, relaxed colours and a mixture of modern and older fonts.
This creates a feeling of reassurance as the template portrays calm competence while still delivering the information clients need. It has service blocks, a blog, contact form and a testimonial section. It also has areas where you can add supplementary elements if you wish. We think it's a refreshing change of pace for a law firm website.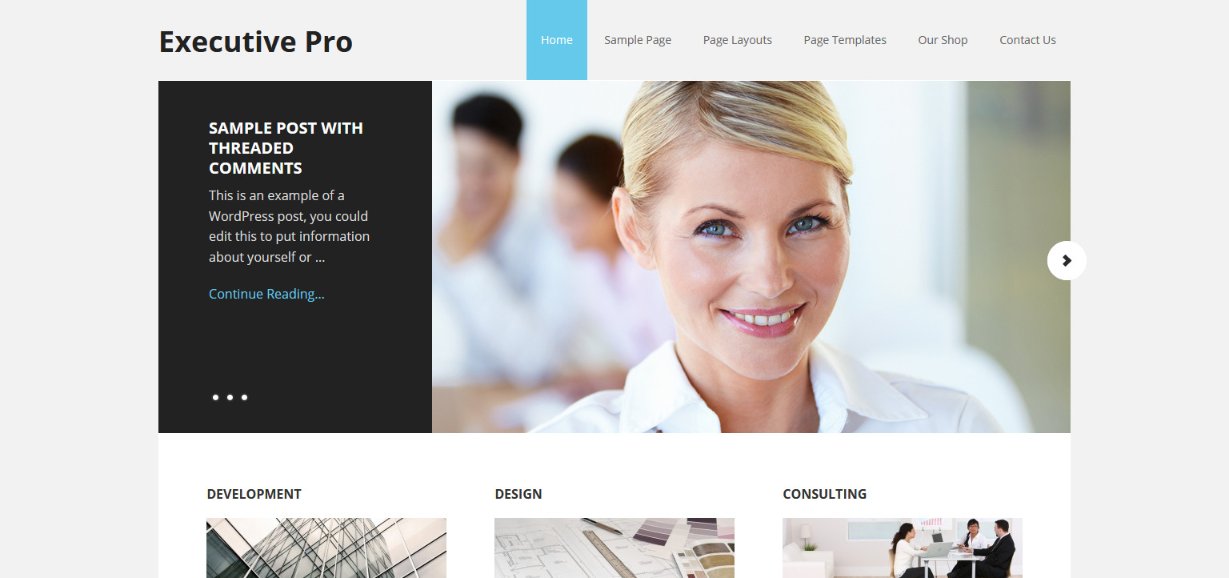 Executive Pro could be a very effective lawyers WordPress theme with minimal customization. This is a corporate theme with a nice boxed layout. A simple image and content header makes a reassuring first impression while the page unfolds to deliver the information clients need.
The theme includes service sections, forms, general content section and different layout options. While the demo template is good, you can also customize everything, including colours, images and layout. It's a very accomplished theme that could work very well indeed.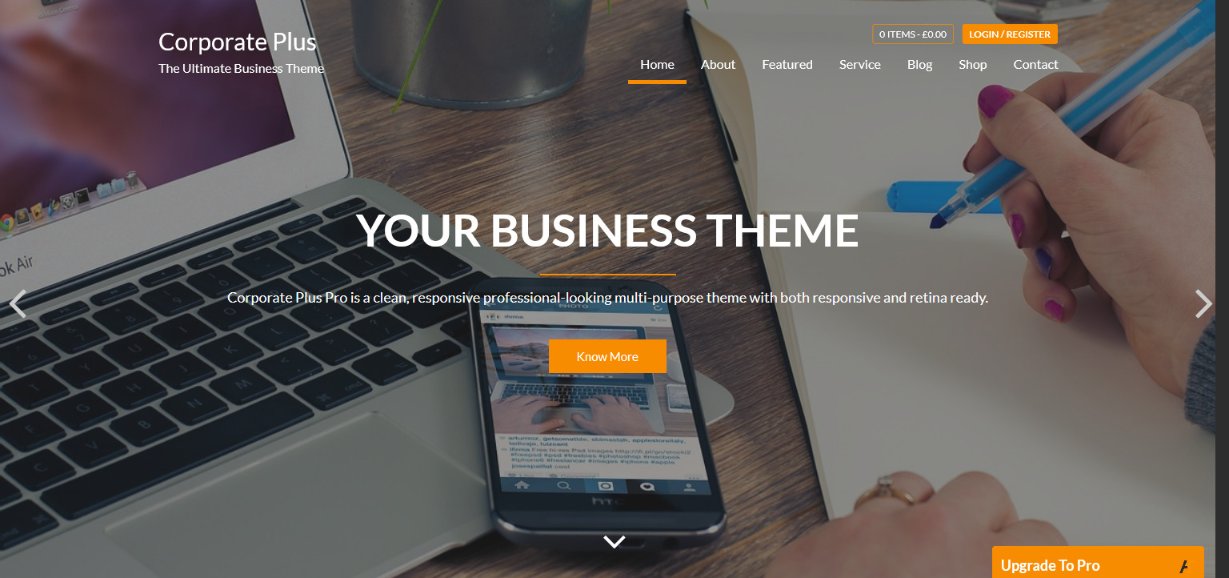 Corporate Plus is another great design that would make a superb WordPress theme for lawyers. It's a corporate theme with strong colours, bold fonts and an effective header image that could make a superb first impression.
The page unfolds more traditionally with a service area, content blocks for features, a portfolio, team biography, testimonials and other essential page elements. Animations add interest but could be disabled if it didn't fit the brand voice. Finally, the orange contrast colour makes a nice impact throughout the page.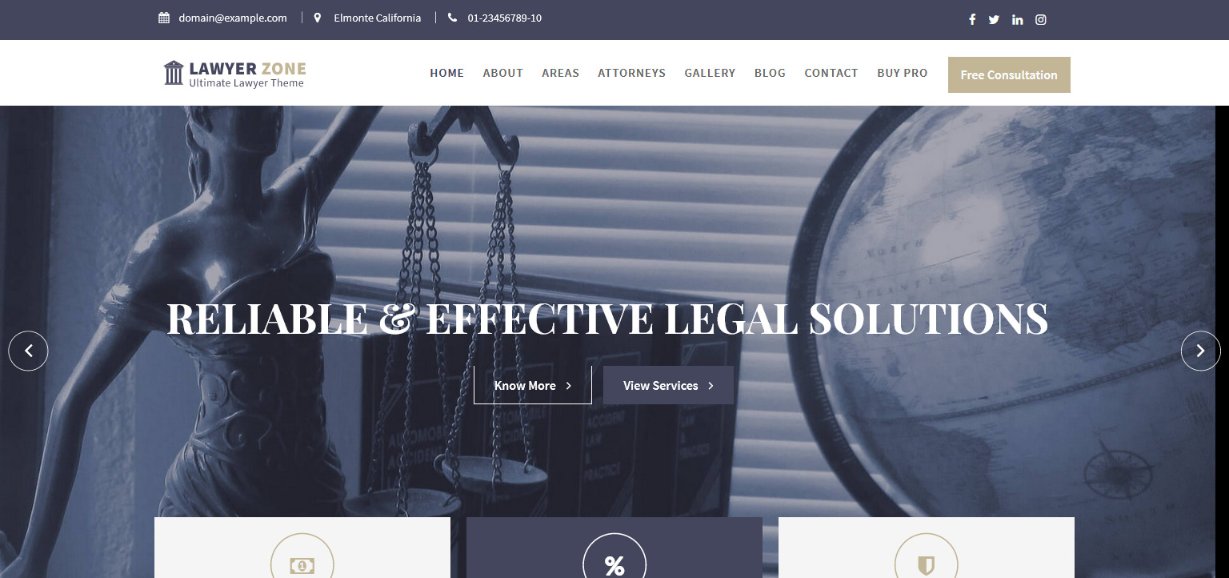 Lawyer Zone is from the same developer as Corporate Plus but has a completely different feel. This is a dedicated lawyer WordPress theme with a much more sober appeal. The blue hue in the header image reflects the blue in the design while the white background makes everything stand out from the page.
This demo includes everything most law firms would want on a site. It includes services, areas of expertise, a team section, gallery for testimonials and a contact form. Each has been well designed and includes nice graphics as well as images and could be customized to suit any brand.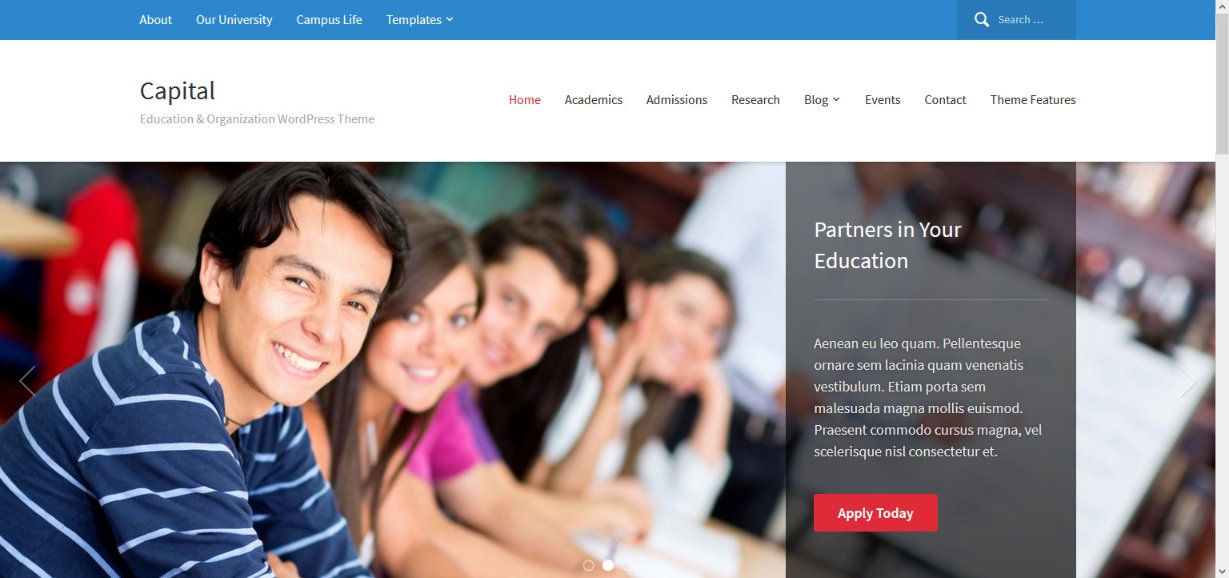 Capital is an educational theme but as you can see, it could easily make an excellent legal WordPress theme. The same authority and gravitas a law firm requires is the same a university or college needs. Both are portrayed very clearly in this design.
An informative header slider showcases whatever you need while a corresponding content block allows you to advertise your services in a very simple way. The rest of the page tells your story by adding services, events, blog posts and media, ending in a contact form. We think this is a strong theme that could make a great website for a law firm.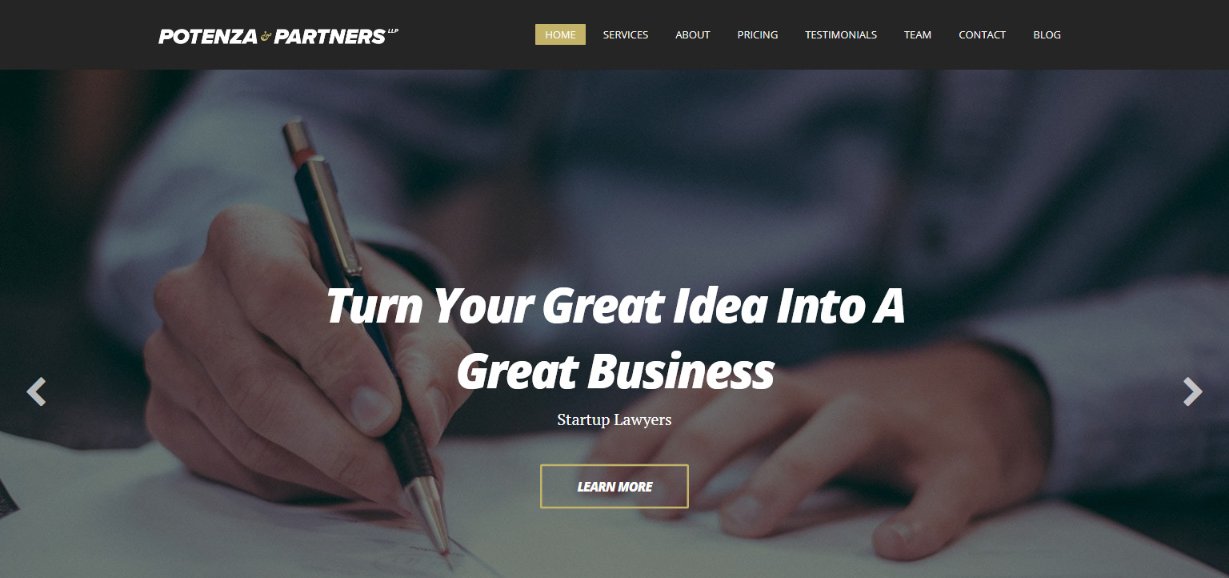 Potenza is an impactful WordPress law theme that has a foot in corporate and a foot in the law. It's another single page theme that could work for smaller firms, individual lawyers or partnerships. It works well with a strong header slider and bold font, modest navigation menu and contrasting dark and light page elements as you go down the page.
There are service elements, calls to action, pricing boxes, a testimonial section, blog, map and contact form. The overall design is light but serious and could be tweaked to be more light hearted or something else entirely with the minimum of effort.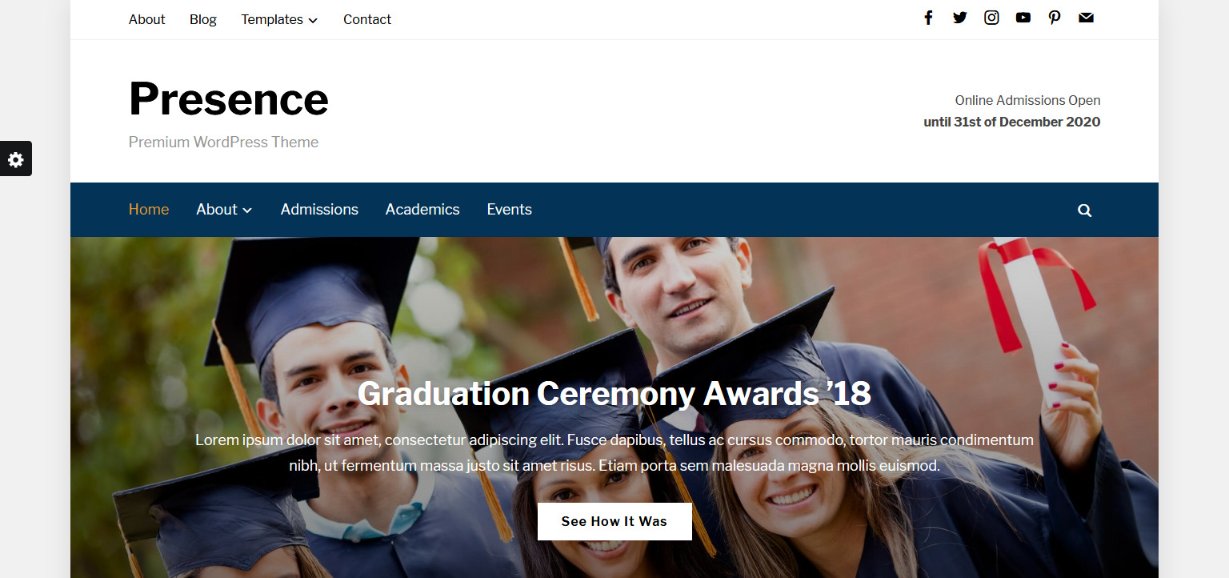 Presence is a slightly different theme with a boxed layout. There are a range of demo sites available to view and we rate the Education page for lawyers. It's a light theme with darker blue colour and orange contrast. It's a popular colour combination for this kind of niche as it works so well.
The pages are very straightforward and waste no time in telling the story with a nice flow and alternating content blocks with images and buttons. It's a simple but very effective layout that could work exceptionally well for the right firm.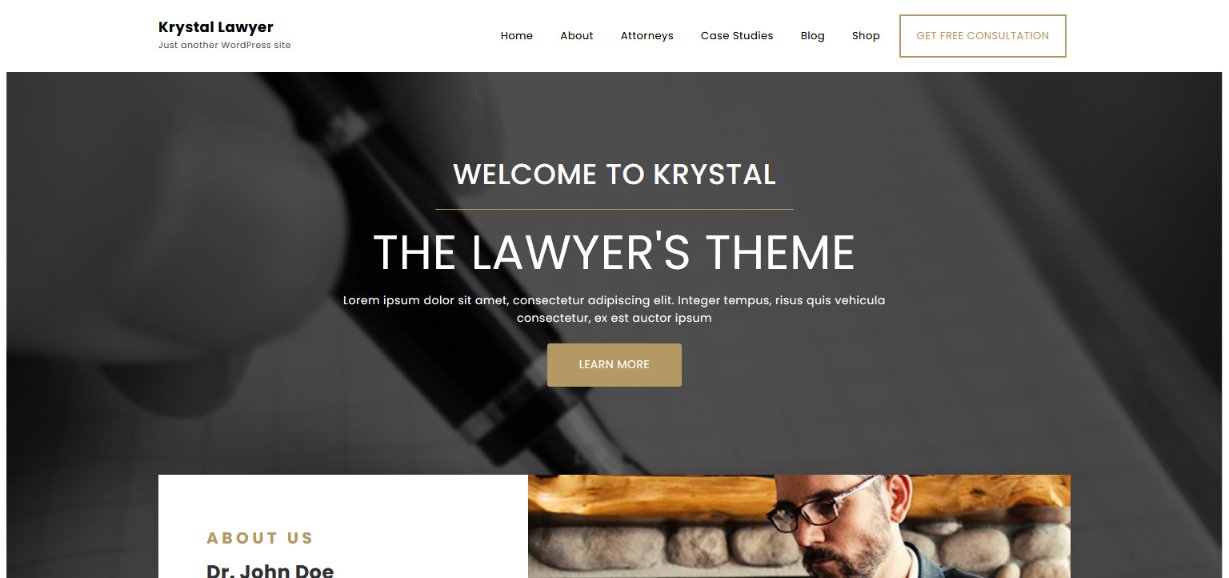 Krystal Lawyer is a free lawyer WordPress theme although you wouldn't have guessed. The design and functionality is on par with the others in this list and the look and feel works very well.
The colours are more traditional, with white, grey, gold and brown to help build authority without being overbearing. Contrasting backgrounds down the page keep your interest while the different content sections help outline the services and tell the brand story. It's a very competent design and may take a little more work to build to your liking but is completely free.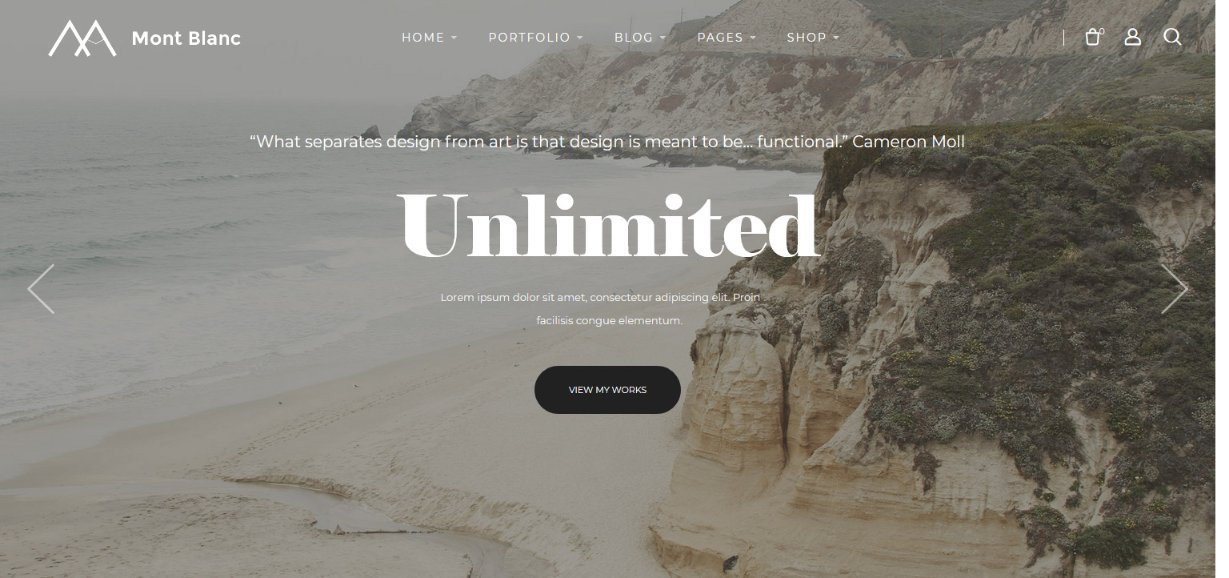 Montblanc is another corporate theme that could work as a WordPress theme for lawyers. This theme is a light design with a full screen header image containing the headline. It also adds the navigation underneath the header for a little extra interest.
Further down the page you have a very modern flat design with contrasting dark and light elements. There are a lot of content blocks but also the opportunity to add images, a lawyer biography, forms and other elements too. We think this is a very strong design worth checking out.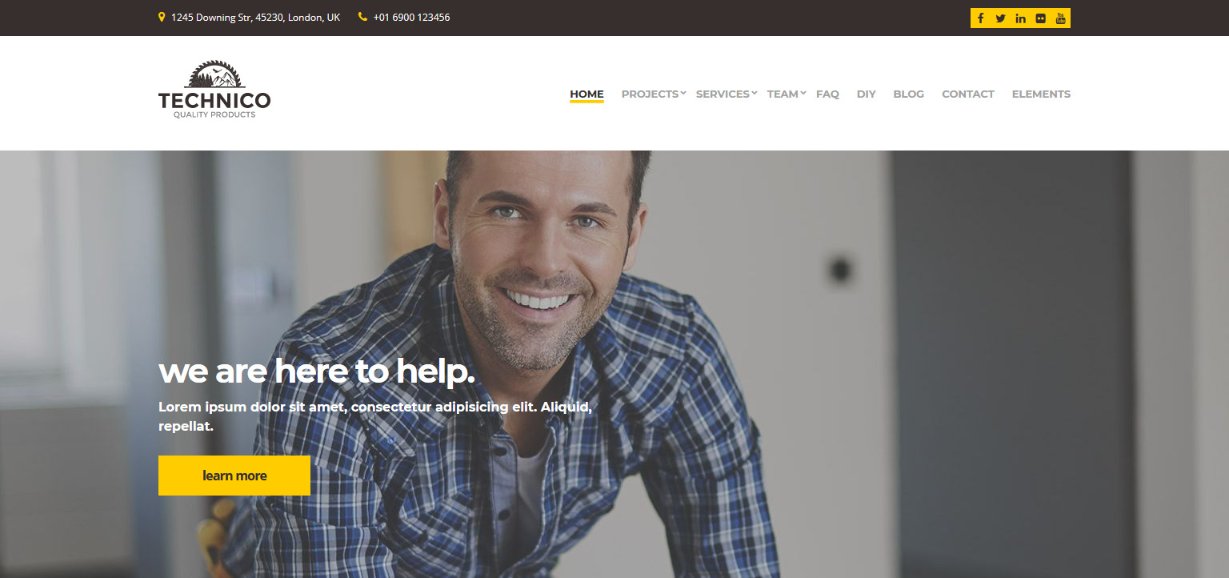 Technico is a colourful theme that could be easily customized to be an effective law theme. It's another design that uses a header slider to make its first impression before flowing into a more traditional business layout. It's a light, airy design that works well to set you at ease.
We like the graphics above the services and the strong yellow contrast colour. They attract attention in all the right ways. We also like the fonts, use of white space and range of content blocks used throughout the page. It could provide all the opportunities you need to tell your story.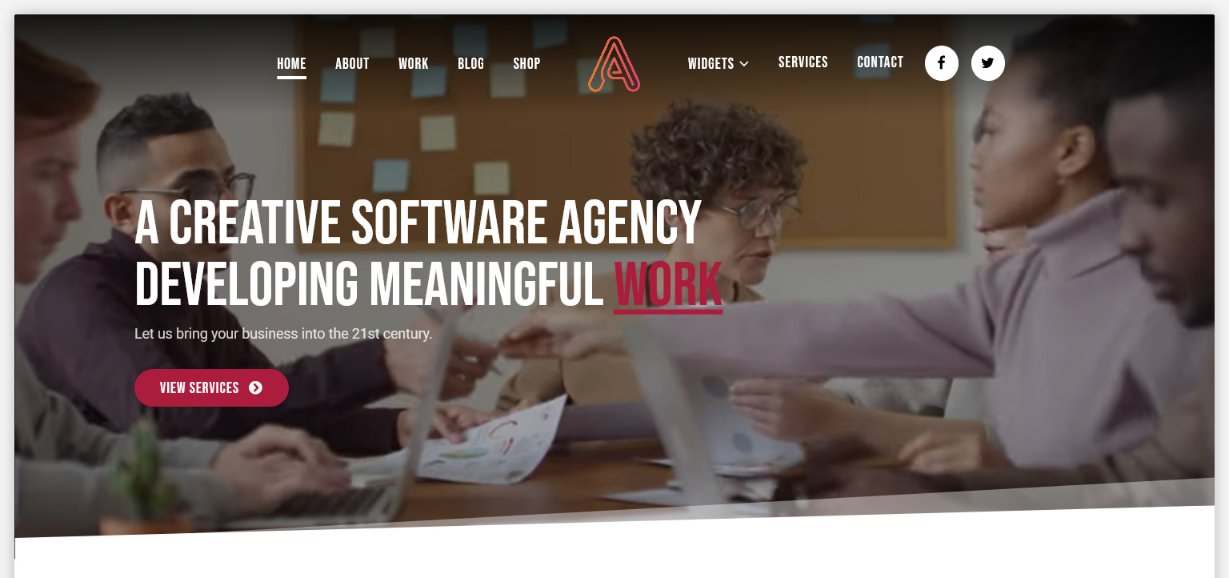 This Agency theme is designed for startups or creatives but would make a fresh, vibrant WordPress law theme too with a little work. The demo website uses a video header which could be changed easily and the rest of the theme would need minimal customization in order to work for a lawyer.
The stark white content blocks and darker elements work well. As do the coloured content areas lower down the page. Along with strong imagery and fonts, we consider this to be a superb WordPress theme for many types of enterprise, including lawyers.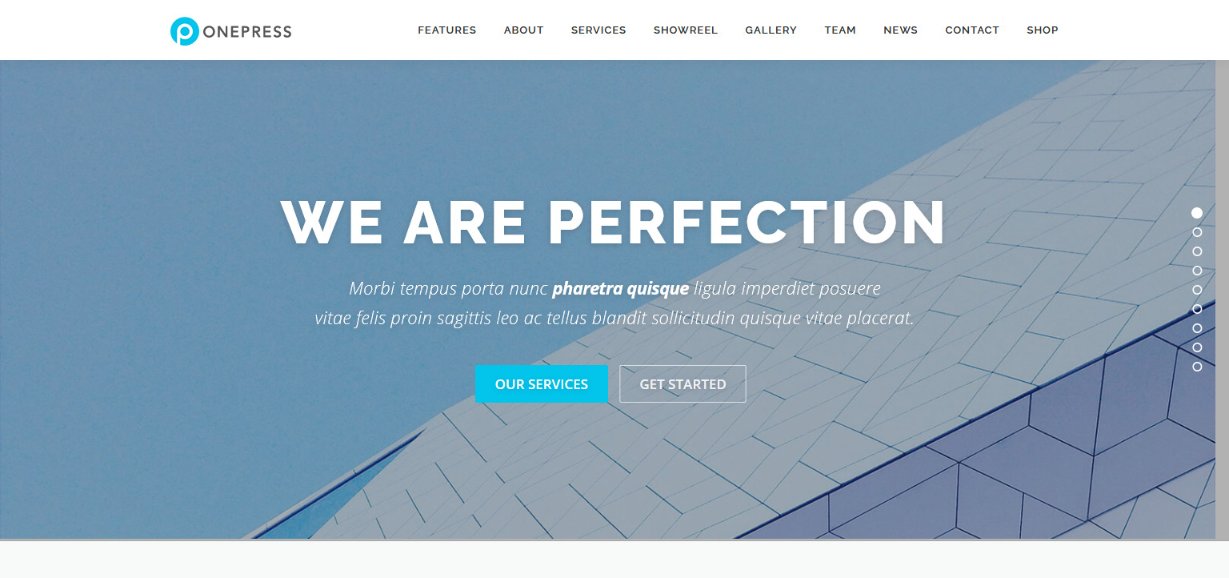 OnePress is a very crisp, clean web design that could be turned into a legal WordPress theme in no time. This is another modern template with calm colours, nice images and a serene, reassuring feel throughout the page.
The combination of stark contrasting colours and fonts, the nice blue colour and borderless content elements creates the authority we need while appealing to the widest possible audience. Add a range of layout options, page elements, forms and more and you have all the ingredients you need to deliver a superior lawyers WordPress theme with minimal effort.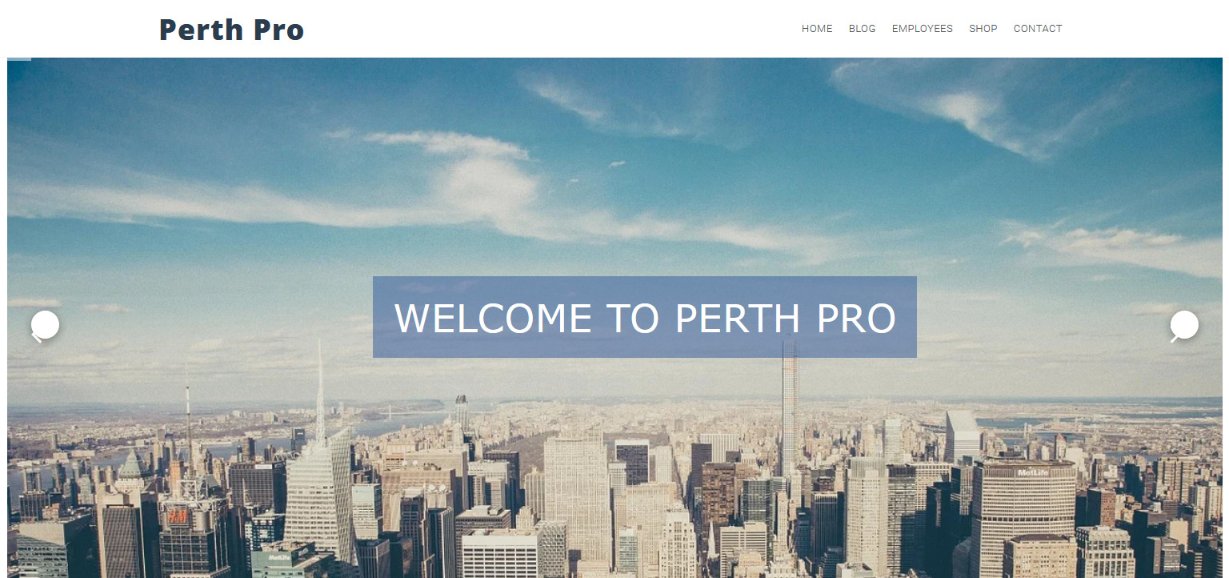 Perth Pro has a similar look and feel to OnePress but is also completely different. This theme also uses start dark and white contrasts with a blue accent colour and a strong header to make that initial impact.
Down the page, the differences come to the fore. Here we have much simpler content blocks with nice graphics, subtle fonts and great balance. A neat timeline option could be valuable while the features and benefits options, team element and form all have their own value. This is a very competent theme.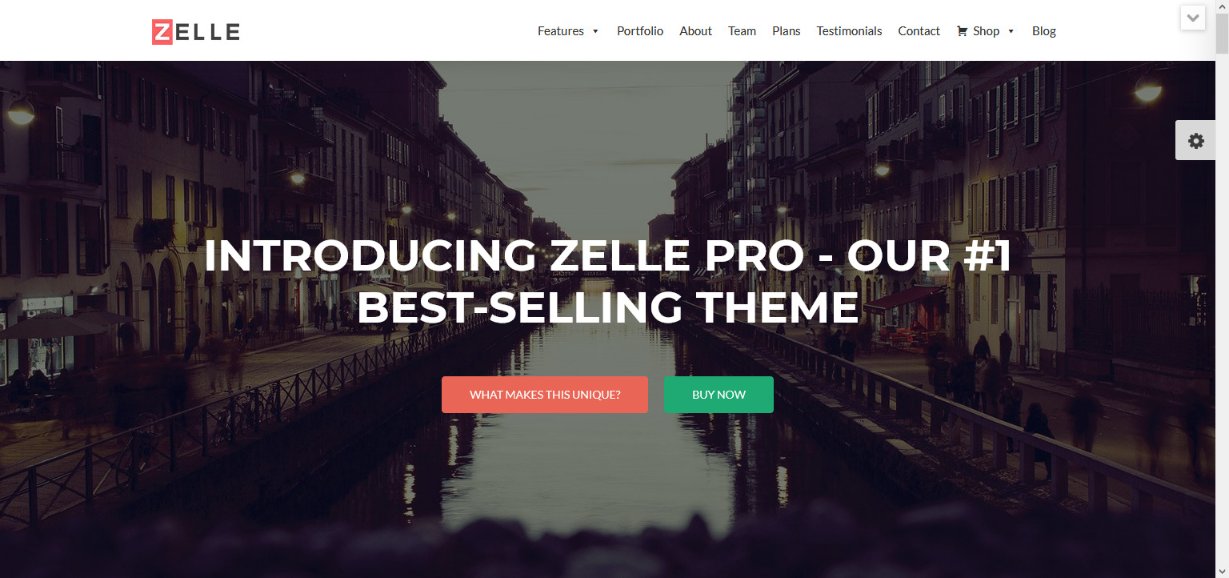 Zelle Pro is a multipurpose WordPress theme that could be repurposed to the law with ease. It's a very clean, flat design that uses the latest fonts, white space and layouts to deliver a contemporary feel without alienating more traditional audiences. It's a very accomplished template.
Zelle Pro has a typical business layout with strong header, service elements, a portfolio, team area, testimonial section and a form. The theme also comes with a store and blog built in if you need them. We think this is a great theme for a modern cutting-edge law firm.
Summary of WordPress Law Themes
You have more choice than ever before if you're shopping for a lawyer WordPress theme. You can choose one with a dedicated demo site to import and customize, or use a more corporate theme and adapt it to your brand.
Either way, if you select one of these lawyer WordPress themes, you're not going to go far wrong!
Which Legal WordPress Theme Should You Choose?
All of the lawyer WordPress themes in this list are worthy of your money. However, there are a couple that really stand out.
We rate Astra for the range of top class templates that are ready to go, including two law themes. We also think the inclusion of drag and drop page builders opens up the potential to build a professional looking website to everyone, regardless of skill level.
Other WordPress themes for lawyers worth mentioning are Defender for its impactful first impression, Business Pro for its clean design, OnePress for its elegant simplicity and Zelle Pro for being a very competent multipurpose theme.
As we said earlier, we have selected all these legal WordPress themes on merit so all of them are worth checking out!
Do you use one of these lawyer WordPress themes? Have any others to suggest? Tell us below if you do!
This article was originally published here.

-
Check out our Starter Sites built with #ToolWeLove including Toolset, Elementor Pro, Astra Pro, and Jet Plugins.