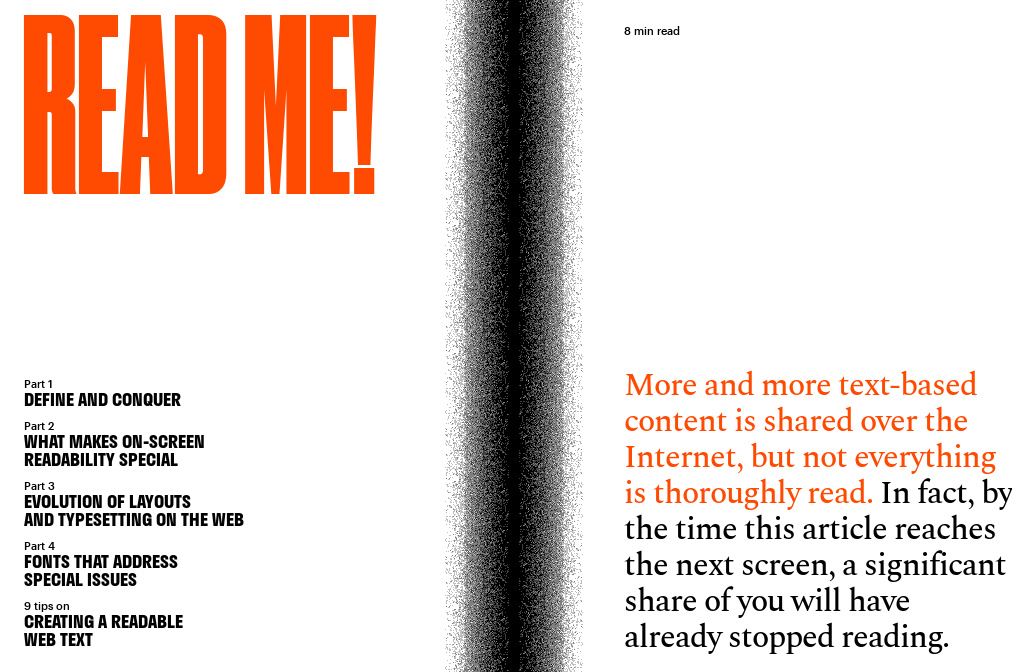 studies suggest that on medium, a popular platform for long blog posts, the average read-through rate is around 40 %—that means only two out of five readers that start reading an article, will actually stick around to finish it (though some argue that there is still significant variance). Readymag Stories project read-through data revolves around the same numbers—by the end of each story, we lose over half of those who began interested.
To make things worse, people almost never consume digital content word by word: instead, they rapidly scan the text. "People scan because they're trying to absorb as much information as they need," notes Kate Moran, a Senior User Experience Specialist at Nielsen Norman Group.
To make the problem go away, it's become almost a cliche to blame the reader. According to this view, the public, addicted to everything new and shiny, is almost eager to be bored by text so that they can switch to the next article, video game, insta account, etc.
But what if the problem is deeper, and what is posed as an ethical question is in fact a matter of pure physiology? Some studies suggest that on-screen text might be inherently more difficult to read than printed. That implies that there is no way creators can raise the bar for read-through above a certain level, pre-determined by the properties of a human eye and a human brain.
Still, to increase the chances of their work being seen, great creators work hard to create good content and set it in type, as they always have.
In this essay we offer some advice on how to deal with both.

---
This post was originally posted here

Check out our Starter Sites built with #ToolWeLove including Toolset, Elementor Pro, and Astra Pro.